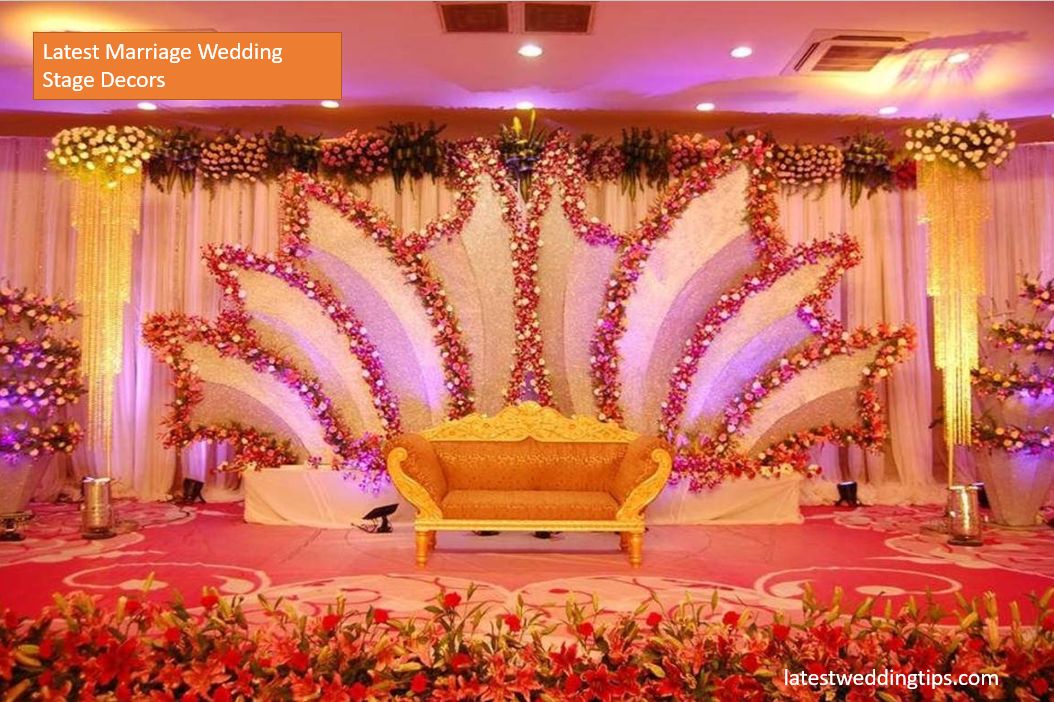 Wedding day is one of the most special day in everyones life. We see that couples and their entire families spend so much time and effort making this day as memorable as possible. The wedding includes making sure the wedding decor representable  with style, taste and aesthetic of the entire theme. And among all of these the wedding stage is the main attraction. There are options for all, from a low-budget wedding stage to a simple marriage wedding stage decorations or a grand marriage wedding stage decors. With the creativeness Indian wedding decors  have involved multiple golds over the years.  The floral backdrop on a carpet stage has now bloomed up. There are different types wedding stage decoration ideas,  we are all spoilt for choices.
Best Wedding Stage Decoration Ideas for Indian Weddings
Scintillating multi-hued florals with a peachy setting
This is a blissful floral decoration wedding stage idea. It is done with beautiful peachy drapes with fairy lights, flowy floral blooms and foliage accents. The perfect royal touch to the stage backdrop is added by the buoyant candle holders  and a vintage brass white sofa.
Hues of white and red is done with an all floral wedding stage
This stage is a charmer. This is a beautiful semi- speherical and widely decked up stage setting. It has white and red flowers, spewing adornments in hues of white and pinks and baby pink drapes. The chandelier and the brass sofa blend is so  graceful  and elegant for vintage vibes.
White and gold for those luxurious feels
The classic combination of white and gold with hints of red is the perfect way to ace a luxuries decor. With olive and pink drapes  against a white backdrop, white chairs with printed red cushions, big vintage flowers vase, and a carpeted floor, this stage looks so royal and exquiste. This is the best wedding decors for reception.
A full floral chariot style stage for engagement
This gorgeous crown shaped dome stage heavenly embllished with varied white blooms and fabulous lighting is everything magical and beyonds words. This is prefered for engagement.
A geometric and edgy patterned stage decors
This is specially arranged with LED-lit triangles in black and white strips for sangeet. This is also best among the latest Indian wedding decoration ideas. Also called as sangeet stage.
A breathtaking and amazing coral-ish and floral stage decors
This heavily floral stage in hues of pink and peachea with drapes is gorgeous as sounds. It is the luxury and exquisiteness. The huge chandelier and scalloped highlights are par excellence. This stage decor is exactly what dreams are made of, with a plethora of florals and minimalistic sofa seating. This is choosen for the Traditional Indian Wedding.
7. Simple go green and let's your plants amp up the surroundings
Keeping decorative in mind  a little rustic or antique that charms a way through us and all the guests present, a simple room divider, some cushions and you are good to go as this makes it a simple home decoration for an Indian wedding.
Highlighting the entrance with some Floral Decor And Lamps
Flowers are considered very auspicious  for weddings, so we can decorte the entire foyer area with fresh flowers and toran. Place a Ganesh idol on the foyer unit as a symbol of happiness and prosperity. We can decor with some unique kalash decors, a floral Ganesh motif on the wall and a gloral rangoli on the floor to amp up the space's  oomps factor. The foyer unit with a seating arrangements. This entryway decor is intricate, works well even for small apartments.Even a splash of freshness to you entry way wedding decors added with fresh flowers and lamps.
A lavish dinner for friends and family in the backyard of our home can be hosted


The backyard or a portion at home can be used to make home wedding a grand affire. By laying some wooden tables and benches and enjoy the sumptuous wedding feast with guests. By spreading an artificial grass carpet on the floor and some wodden frames with creepers and flowers to decorate the backyard. Lightup the space with fairy lights, decorous hangings lanterns and table lamps to lend a warm ambience to the space.

Eco-friendly decor theme
Opt for a green backdrop made of fresh banana leaves and different varieties of flowers. This backdrop is trendy and environmentally sustainable as well. Using marigold hanging on walls. They are an innovative way of adding  a fresh vibe to the place and will cath attention of the guests. The yellow, red and white combination with green banana leaves creates a beautiful contrast for home wedding decoration and lend a lush vibe. The theme can be prefered for haldi ceremony.
Opting for green simple and clutter free
 This  decor ideas goes well for any wedding related function at home, be it haldi, mehendi, roka, engagement, or even to celebrate 1st wedding anniversary. The swings adds a fun and quirky element to the decor while lending a subtle traditional vibe. Natural decor elements to lend a tropical vibe at the place. Add some jasmine flower garlands, a turfgrass backdrop accessories with orchids, roses and some other fresh flowers and four potted banana plants at four corners of the stage. A light colored carpet and lend comforting vibe to the entire space.
Red roses for gate decorations
The red roses are part of a beautiful decoration, which makes anything better. Gate decorations are self explanatory, detailed and quite beautiful too. As a simplistic bengali wedding flower gate decoration, it has attributes required to call it a well decorated entrance.
Yellow and white flower decoration
The best and most beautiful for bengali wedding flower gate decorations. The decorator has simply used the most conventional and commonly used flower in the market. The decoration is extremely simple, and the appearance is way too delectable. It is the way to go with simple and basic as this decoration. It has some of the most elegant flower, which is covering most of the interior decors. It also has a pretty good centrepiece, in the middle of the room.
Magnificent stage-cum-mundapamstage-cum-mundap with clasic gold and red combination

This mejestic stage setting  will blow our minds. It is  round, antique pillar stage in the center with floran chandelier, with an attached mini pond and yellow lights. It resembles traditionalism that has hooked us  by a temple and a lotus-inspired spoke.