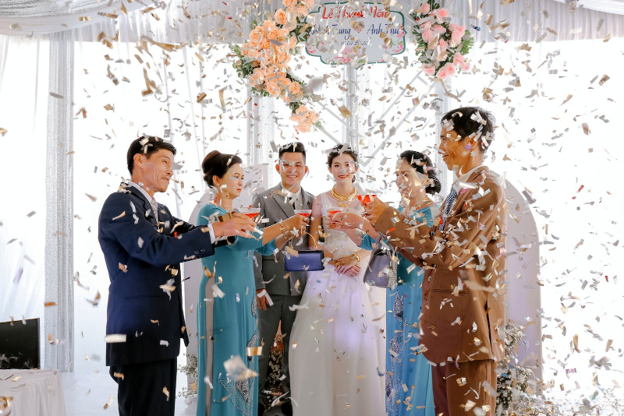 Wedding season will soon be approaching us, and during the summer months, you might have a busy schedule with all of the ceremonies you have been invited to. How you dress as a wedding guest can be one of the most important factors when it comes to cultivating a beautiful wedding. For example, if guests don't follow the dress code, this can mean that the ceremony lacks cohesion and can really ruin the wedding pictures. However, luckily there are a lot of ways that you can figure out your wedding guest outfits. Following these fashion tips will allow you to find the perfect wedding guest outfit. 
Find Your Colours
Knowing what colours to look for is one of the most important things you need to keep in mind when selecting your wedding guest outfit. There are multiple things you need to think about when selecting colours. Firstly, you need to think about the undertones of your skin. The colour of your skin and hair is important when thinking about this – certain colours will look better on you than others. You don't want to select a colour that will wash you out in pictures.
Another thing you should consider is the season of the wedding you are attending. Winter wedding guests should opt for wintery colours such as jewel tones. If you are attending a summer wedding, you should consider wearing brighter, summery colours and florals. Dressing for the season is one of the most important parts of attending formal events. There are other things you need to consider when selecting your wedding guest outfit colours.
You should try to avoid the wedding colours of the married couple to be you don't want to accidentally match the wedding party! This could confuse the cohesion of the wedding pictures and be awkward on the big day. There are also colours which you should avoid in most circumstances- white and cream are a big no-no. You don't want to upset the bride! It should also be noted that brides in non-Western cultures wear different coloured dresses, for example, it's common in Desi and Chinese weddings that the bride's wedding dress is red. You should keep this in mind and do your research if you're going to a multi-cultural wedding. If in doubt, ask the bride. Another thing to be wary of is very light pastel colours. This is because they can show up white on flash photography. Therefore, it's important that you think carefully about the colours so you don't cause offence when attending the wedding. 
Pay Close Attention To The Dress Code
On the invitation, they will usually specify the dress code for the ceremony. Make sure you pay close attention to this and keep it at the forefront of your mind when choosing your wedding guest outfit. For example, for formal weddings, you will usually need to wear a floor-length ballgown. For women, long dresses are usually standard wedding guest attire. However, even if the invitation says 'casual' it's important that you keep in mind that this is a very loose definition of the word. You will usually still need to be dressed very smartly- no sweatpants in sight! Always remember that it's much better to be overdressed than underdressed.
Dresses are usually the best option, however, there are many options available if you want to wear trousers. There are many stylish jumpsuits and smart trouser-top combinations that will fit in with a classy and elegant casual wedding. Make sure your trousers and top are colour-coordinated to inject a bit of extra class into your wedding guest outfit. Another thing you need to be aware of is the fact you may need to be a bit more covered up. This is especially true if the ceremony is in a church or other religious site. This can be tricky if the wedding is in the summer months, and you also want to keep cool. A nice shawl or cardigan that can easily be removed is a great compromise here- you will be able to keep cool while also having the option to cover up if you need to. A stylish blazer may also be a good option also. 
Accessories 
Your comfort is important, but you also need to think about the things you will wear to accompany your wedding guest outfit. For example, your shoes are essential to looking great and having fun at the ceremony. Your shoes should be stylish and classy, but not too uncomfortable. If you can't walk in stilettos, opt for a lower, thicker heel. This will ensure you look great but also will be able to dance! Avoid flip-flops at all costs, unless it's a relaxed beach wedding. If the ceremony is outside, opt for wedges or thick sole shoes. This will ensure you don't sink into any grass and have more stability when you're walking around. 
Well-chosen accessories can also make any outfit look just that bit better. For example, a stylish and matching bag can make sure you don't lose any of your personal effects like your wallet or your phone during the celebrations. Belts and classy jewellery can also be one of the best ways to jazz up an outfit. This is one of the best ways to elevate any outfit, and can really tie together a beautiful wedding guest outfit. However, make sure you don't over-accessorise, as this can make you look a bit gauche. In the event you accidentally overdo it, jewellery can always be taken off, so don't worry too much. 
On A Budget?
If you're somewhat of a social butterfly, but can't keep up with the outfit demands, there are many options that you can choose from. Scouring the internet for wedding guest dresses that are on sale can be one of the best things you can do, so you can look great without breaking the bank. Another useful tip is to alter clothes that you already own. Adding things such as lave or satin embellishments can really transform the look of an outfit. Jewellery such as brooches and belts can also make an old dress look brand new too. If you're really stuck, you could always look up how to dye your clothes- putting your old outfits in a new colour can really transform them. 
Creating your wedding guest outfit doesn't have to be a daunting task- you can find cool outfits at a lot of different stores and shops. Keeping these tips and tricks in mind will help you create a beautiful wedding guest outfit that will look great in the wedding pictures, and will be comfy enough for you to dance the night away in!