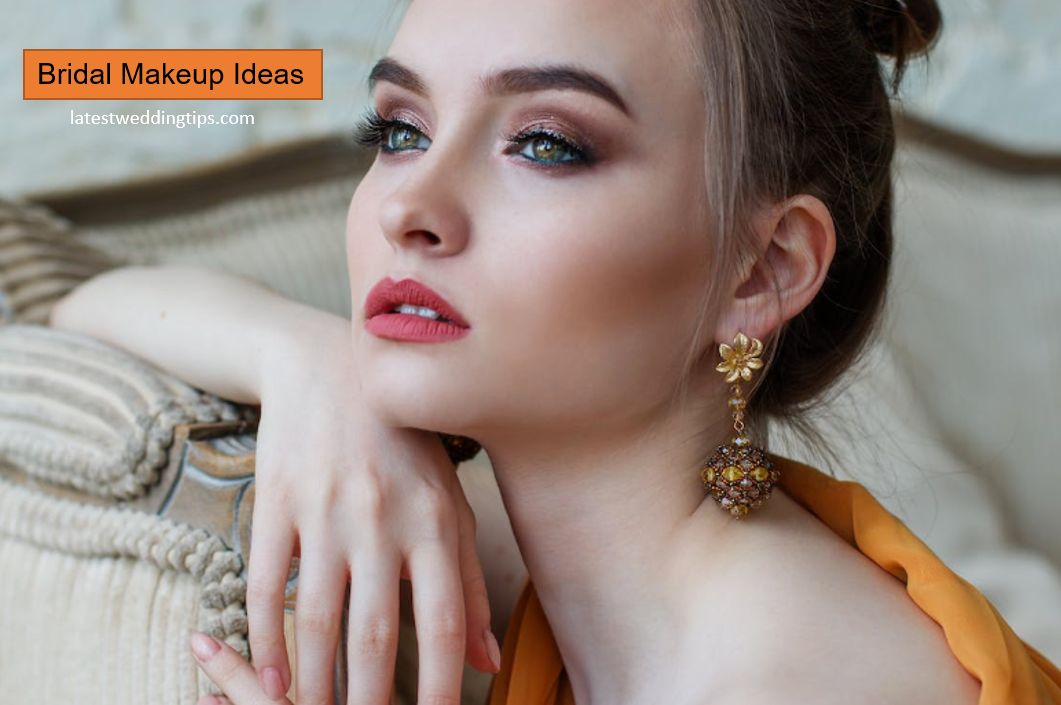 Are you getting married in 2023? Planning for your wedding can be one of the most difficult periods couples go through. The stress of planning everything however makes it all worth it on the special day. If you're worried about what makeup is going to be on-trend next year, look no further. Give some of these looks a trial with your makeup artist to see which one suits you the best. These are all the best bridal makeup looks that are predicted to dominate Bridal Makeup Ideas For 2023.
Top 6 Bridal Makeup Ideas
Fantasy Makeup
Fantasy chic is set to dominate bridal makeup next year. With the popularity of shows like Game of Thrones and The Witcher, medieval-esque fantasy is a big trend at the moment. Outside weddings where the bride wears a flower crown instead of a veil are already on the rise. Makeup for this sort of wedding includes dewey foundation, floral colours and adhesive gemstones on the face. Shimmery lipglosses and peach blush shades are also really popular when it comes to the fantasy makeup look. Matching the shades used on your face to your flower crown and bouquet can be a great way to make your wedding look more cohesive. 
Fresh-Faced
The minimal bridal makeup look is one that is dominating trends this year. A few years ago, Alicia Keys wowed audiences by not wearing red makeup on the red carpet. She popularised a fresh-faced, minimal-makeup look. This makeup look is now becoming very popular for brides. Glass skin makeup paired with clear mascara, neutral matte lipstick and light blush can create a beautiful 'no bridal makeup look. This is one of the makeup trends that will be incredibly popular in 2023.
Rock-Star
Are you having a night-time wedding? Rock-star makeup looks are becoming incredibly popular amongst brides that are having a more party-style wedding in the evening. This look consists of red lipstick, smokey eye, and big eyelashes. This makeup trend looks really good with big hair and lots of jewellery. Dresses that have cut-outs or studs will also go really great with this bridal makeup look, as well as a bouquet of red roses. The rock-star makeup look is one that is not normally used for weddings but has been growing in popularity over the last year. If you're more of an edgy bride, this could be a great makeup look for your special day. 
Holographic Space-Age
Holographic two-tone eyeshadows are set to be one of the biggest bridal makeup trends in 2023. These bright and metallic shades are a great way to add some colour and edge to your makeup look. Holographic eyeshades in metallic shades such as gold, silver or bronze are a great way to be shimmery and bridal but also be somewhat edgy. Pairing these eyeshadows with a soft highlighter and plain gloss would make a perfect look for your wedding day. They would also compliment a traditional veil very well. 
Vintage Chic
The vintage look is coming back with a vengeance in 2023. Winged eyeliner and matte lipstick are dominating bridal makeup trends on the runway at the moment. If you're going vintage for your wedding outfit, a vintage makeup look would compliment your outfit perfectly. One great tip to modernise a vintage makeup look is to add a bright shade to your eyes to match your outfit. For example, you could add blue eyeshadow to match your vintage sapphire engagement ring. Vintage makeup looks can look beautiful on any face shape. This could be a great idea if you're more of a traditional bride. 
Colour Pop
Are you a bride that likes to stand out? Colour pop makeup is one of the biggest trends dominating the bridal makeup scene right now. It's expected to be massive in 2023. Coloured eyeliner, yellow/purple lipsticks and intense blush are really good options if you're a fan of this look. This can add a bit of edge and colour to your white wedding dress. If you're happy to look non-traditional on your big day, definitely experiment with the colour-pop look.

No matter what you choose, every bride deserves to look beautiful on their wedding day. Explore these options so you can feel confident in the bridal makeup that you like best. Confidence is key!