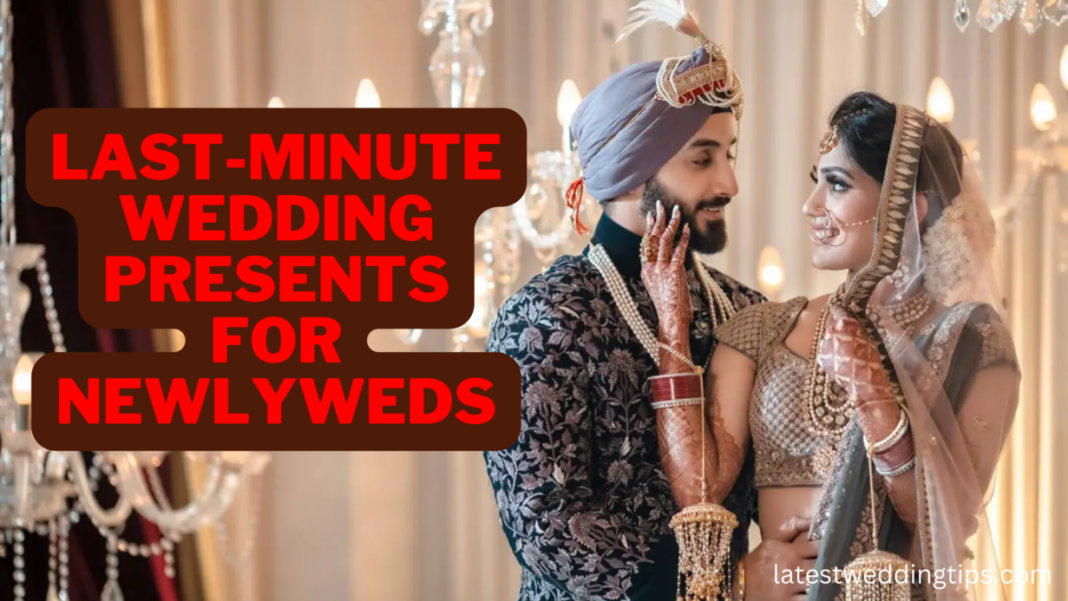 Are you looking for thoughtful last-minute wedding gift suggestions? Check out these incredible wedding gifts for newlyweds and those who have everything. If you don't have a registry, these good late-wedding gifts will impress the special couple. Most of them can be purchased quickly online and shipped directly at your door step. The good part is that they're thoughtful enough to appear like you spent a long time discovering them.
Amazing Last-Minute Wedding Gift Ideas
1. Acrylic photo frames
A newlywed couple obviously not possess too many picture frames. With a few dreamy acrylic blocks, you can help them decorate their new home and display their wedding photos. The frames hold a photo on each side and swivel to show them off. This will enhance the beauty of their room.
2. Personalized Desk Calendar
A personalized desk calendar fulfills all of the requirements. It's beautiful, functional, and, most importantly, it gives them another reason to admire their wedding photos. If you are gifting before their Big Day, send them an e-gift card to use once they receive their wedding album from the photographer. Otherwise, you can make your calendar from their public album.
3. Maker of Cold Brew Coffee
Treat them with a home cold brew maker if they love coffee as they love each other. The maker's compact design ensures that it will fit on their counter and in their fridge, allowing them to get their caffeine fix.
4. Blanket for a newlywed couple
This gift is ideal for the bride and groom, whether they enjoy Netflix and chilling or simply reminiscing about their wedding in their home. Capture those special moments before and during the wedding to make an unforgettable gift. 
5. Movie Night Popcorn Maker
You can prepare the lovely couple for a night of movies and snacks with this gift set, which includes a popcorn popper and two bags of kernels. The interactive, hand-cranked popper makes twice as much popcorn as a microwave bag in the same amount of time. They're all set for a relaxing night with a movie or streaming service gift card.
6. Fine Art
Give the happy couple a gift card for framed fine art to help them personalize their shared space. A gift card not only takes some guesswork out of the gift-giving process but also ensures that the couple can enjoy the selection process together.
7. The entrance doormat
Has the happy couple, in addition to marrying, established their new home and lived together? Why not commemorate both of these special occasions with this simple, personalized gift idea? Everyone will know whose house they're entering with this personalized gift idea.
8. Automatic Sensor Trash Can
An automatic trash can is a gift they probably wouldn't buy for themselves but will be grateful to have. With a hand wave in front of the sensor, this no-touch can open smoothly and quickly. What is our favorite feature? When you need a new bag, a pocket inside the trash can dispenses one.
9. Personalized Serving Tray
A personalized serving tray is an excellent last-minute gift for a newlywed couple. This lovely, personalized tray can be used as a display piece or everyday houseware. On those special dates, they can use this to serve each other breakfast in bed.
So, you can consider one of these option for your beloved newlywed couple without wasting your precious time. 
John Adams is a lifestyle blogger whose writing is focused on self-development, health & fitness, latest trends in weddings, entertainment, and personal injury law. He encourages readers to live their dreams but also teaches them to be realistic and practical. He loves to share his insight on life experiences and contributes to various online platforms in the same niche.